Note the large chainring on this blue and red Schwinn built Excelsior bicycle. Outrageous colors were often used by Schwinn during this era.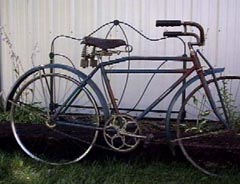 The oversize chain ring and the red and blue paint job make this Schwinn a worthy collectors item.
Enjoying Nostalgic.net? Please consider a small donation. Your support is appreciated!