This 1936 Elgin Robin features a zeppelin inspired tank. The tank has a built in horn unit. Notice the low-slung frame design, which was changed for the 1937 model year due to issues with the frame breaking where the seat tube meets the top tube.
Entry Submitted by MORRIE TURNER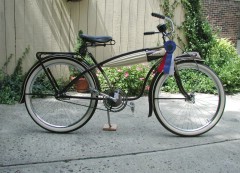 Low streamlined frame design with tall seat tube indicates this is a 1936 model.