This "safety" bike was named the Century because it was built 400 years after Columbus discovered America. It came with a 30 inch front wheel and a 28 inch rear wheel. It has pneumatic tires, which were the newest in tire technology for that time. It is un-restored and complete except for the brake. The catalog states that some people may remove the brakes to reduce weight. Strange for this to be in print!
Entry Submitted by MORRIE TURNER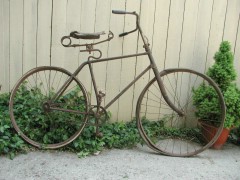 Columbia safety bicycle.