1891 Union No.12 Anti-Vibratory Safety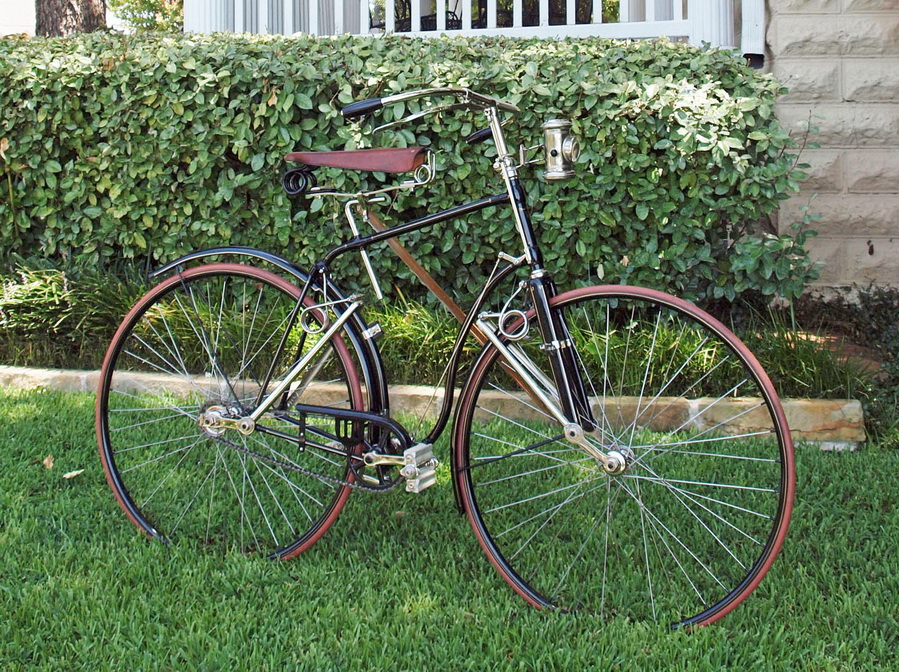 Originally published in Classic Bicycle News by Scott McCaskey
Union Cycle Manufacturing Co got it's start in 1890 when it purchased the plant, patents and inventory from the Springfield Manufacturing Company. Springfield was primarily a manufacture of highwheelers. In Unions 1890 catalog there were the # 2 and #5 Springfield Roadster high wheelers, and introduced their new "Crank Safety" named No. 9 Union Safety, priced at $135.00. A tidy sum equivalent to $3200 2012 dollars.
By their 2nd year of production Union had given up on highwheelers in favor of the new safety's. Advertised was the No. 10 which was a non cushioned bike, No. 11 which was a cross diamond frame frame with a cross design on the frame, and No. 12, which is this month's feature bike, sports a more traditional diamond shaped main frame with "anti vibratory forks and rear end". The spoon brake grabs the rear wheel. Speaking of wheels, both wheels are 30" hard tires with a cushion option. I am not sure what is meant by cushion, because Union did not introduce pneumatic tires until 1893.
I am not sure when the Union Cycle Mfg ceased production, but I have catalogs until 1895.
This month's feature bike was stumbled upon in Eastern Washington State. Dave at Nostalgic.net found this bike locally and offered it to me. Missing many parts that I had no idea if I could ever find, I went ahead and bought the bike because of the uniqueness of double spring design.
The only person I knew that might be able to help me was Bob Jameson, an Ohio Wheelmen who has restored many antique bikes in his life, and several for the museum in New Bremen. Bob said he was too busy to take on such an aggressive project, but suggested I call Craig Allen. "The best antique bike restorer out there". Wow I said to myself, I consider Bob to the best guy at making parts, and he said Craig was the best.
I emailed Craig and asked him if he could do the job, and he agreed. He said it would take 2 years but I would end up with an amazing bike. Man, was he ever right.
Craig had to make rims, spokes, pedals, front hub, seat, left crank arm, the front spring and truss's, and the brake assembly. Craig is a master machinist, and quite frankly an artist.
2 years later I received an email that my bike was done. He included a picture of the completely restored bike and I was simply amazed. He was able to find an owner of another Union No. 12 and was able to copy some or the parts that he needed to make. The bike is spot on.
Reluctant to ship, he asked if he could deliver the bike to Copake. Since I haven't been to Copake in years, and didn't want to ask any friends to pick it up for me knowing that their vehicles would be loaded with their scores, I declined. I started thinking who I knew in Craig's neck of the woods, and realized that Curtis Anthony in Philly was pretty close. I also knew that Curtis would be traveling to Memory Lane 2 weeks later with a somewhat empty vehicle, I called him. He graciously agreed to pick my bike up from Craig (I found out at that point that Curtis and Craig were longtime buddies) and deliver to the spring Memory Lane swap.
I have never considered myself an antique bicycle collector, although have been a member of the Wheelmen for years, but I can see how one could get addicted. I appreciate the ballooners for the style and innovation of use of sheet metal, but when you consider a bike like this was built by a craftsman in a workshop, pre Henry Ford production line, it's definitely intriguing. Trying to restore one can be very frustrating, as unlike the parts from the balloon tire era, just are not interchangeable with other bikes.
I am very fortunate to have friends such as Dave, Bob and many others who have helped me procure, restore and learn about old bikes.