1901 Pierce Chainless
Nickel plated Pierce chainless. Early Pierce bicycles were the product of the Pierce Arrow automobile company, but were not called "Pierce Arrow"… rather just "Pierce". This bicycle is on display at the Pedaling History Bicycle Museum in Orchard Park, NY.
Entry Submitted by Dave Stromberger.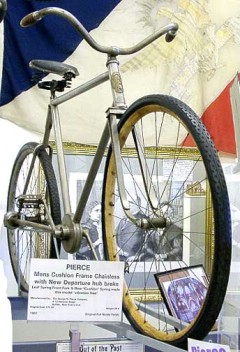 Nickel plated frame with front and rear suspension and shaft drive.