1957 J.C. Higgins Girls model
This is very nice original J.C. Higgins deluxe model. It features a "Cat's Eye" rear reflector and motorcycle style Delta headlight. The visor built into the headlight bezel identifies this as a 1957 model. The 1956 model was very similar. 1957 would be the last year that a balloon tire bicycle was listed in the standard Sears catalogs.
Entry Submitted by MORRIE TURNER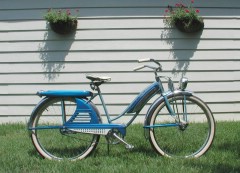 Nice original 1957 J.C. Higgins deluxe ladies bicycle.