Welcome to Dave's Vintage Bicycles! Choose your favorite bicycle brand from the list above, or check out the Pre-War, Post-War and Antique categories to see hundreds of interesting old bicycles!



Featured bicycles for the month of March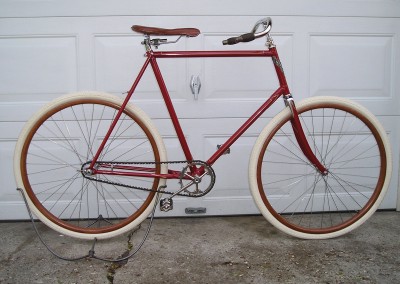 1897 Gormully & Jeffery Rambler Light Roadster
This restored, Chicago made bicycle features spear-point reinforcing on the frame and fork, brazed flared tubing, wrap around head badge, reversible seat post, and original cork grips.
Originally, it had a rare foot operated brake mounted on the fork which was removed. The foot operated brake will be put back on at a later date. An Eclipse coaster brake (patent 1908) was installed early in the bicycle's history (This was a common practice back then).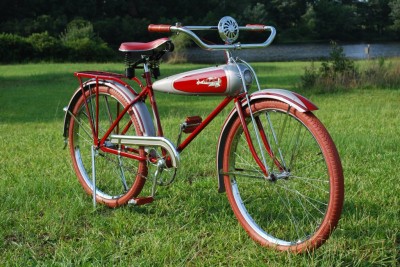 This was the last year for the Aerocycle which was replaced as the top model with the introduction of the Autocycle. The '36 model had a different paint scheme and a fork stop to prevent the truss rods from contacting the tank to prevent damage. This bike was restored by Evan Hatcher and all the electrics work.
Restored back to factory specifications by Schwinn restoration specialist, Bob Usasi. Done in black and cream, this beautiful Schwinn is what dreams were made of for boys in the late 1940's. Equipped with a Forewheel (drum) brake on the front, and a locking springer fork, this bike was as good as it got in 1948 from Schwinn.